Surety offers a premium service where we allow our customers to lease refrigeration equipment one, low monthly payment. All the benefits of leasing are below.
Benefits of Leasing
Service is the keyword and all mechanical refrigeration service is included in your low monthly payment.
Limited money down and no final connection charges on air or water cooled machines.
Flexibility as your business grows your ice needs change. More capacity is a phone call away.
Leasing provides an easy way to upgrade your ice maker without having to try and trade your machine in and get another one reinstalled.
Earn Frequent Flyer Miles on us. Pay with Visa, MasterCard and Discover. We will charge your credit card each month and you earn the miles.
Predictable expense is constant.
Our ice specialist will determine the best place to install the ice maker with respect to your needs and the utility locations in your business
Most customers understand that an ice maker is the most service oriented piece of equipment in your kitchen or place of business. It all has to do with water and the impurities in it. When ice is made, water goes from a liquid to a solid and in this process many of the impurities from the water are deposited inside the ice maker. Scale and chlorine gas are two by-products that are hard on an ice maker. Scale build-up in an ice maker leads to lower ice production, early machine failure, utility inefficiency and poor ice quality. Leasing an ice maker solves this problem.
Customized hotels, country clubs, schools, restaurants, lounges and convenience stores. All of these operations require custom packages. We will tailor a full service leasing program to fit your needs. Options include ice merchandisers, ice dispensers, ice baggers and ice maker/dispensers.
We Cover
Back Bar Equipment
Bottle Boxes
Draft Beer Dispensers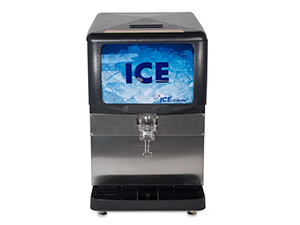 Display Cases
Freezers
Frozen Beverage Machines
Glass Chillers
Glass Door Merchandisers
Ice Dispensers
Ice Machines
Refrigerators
Soft Serve Ice Cream
Walk-In Coolers
Walk-In Freezers